What's up JTO, My names Gene, I drive a '95 civic dx, I live on the island of Guam & I am 19 years old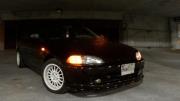 Not sure if i got the image url correct, but there's my civic, I'll be posting a build thread soon, just waiting on all my parts to come in.
Rims are Konig 16 195/50/16.
Rims in my PROFILE PICTURE are different cause i had bad wear & tear on my Konigs, but rims are Concept Five, Not exactly sure of tire size, got em from my moms old civic.